A

long with paint (the forerunner for instant gratification in my book), I feel that a mirror can change a room in an instant and, unlike some home furnishings and accessories, the right mirror can situate naturally into any space. Say that about a sofa fitting into a bathroom...
The right choice can add bling and pizazz or simply a quiet reflection. Added dimension and architectural interest coupled with so many choices of finishes, sizes and styles, there's a mirror waiting patiently to meet your decorating needs.

Garden District Mirror
, from Ballard Designs and priced affordably as a pair,
this mirror has been a popular accent of mine.


Kinsey Mirror
, from Ballard Designs, I love the horizontal shape and the antique mirror!

Sedona
Mirror, from Uttermost.
What drama it adds when placed against a dark surface!
Aubrey
Mirror, from Uttermost.
I love the simplicity and grace of this mirror and just purchased it for use
over a vanity for one of my clients - it's even more beautiful in person!
Eagan Multipanel Mirror
, from Pottery Barn.
This one is big, so it's perfect when you have a soaring fireplace and
need to dress it up, as indicated in the Pottery Barn photo credit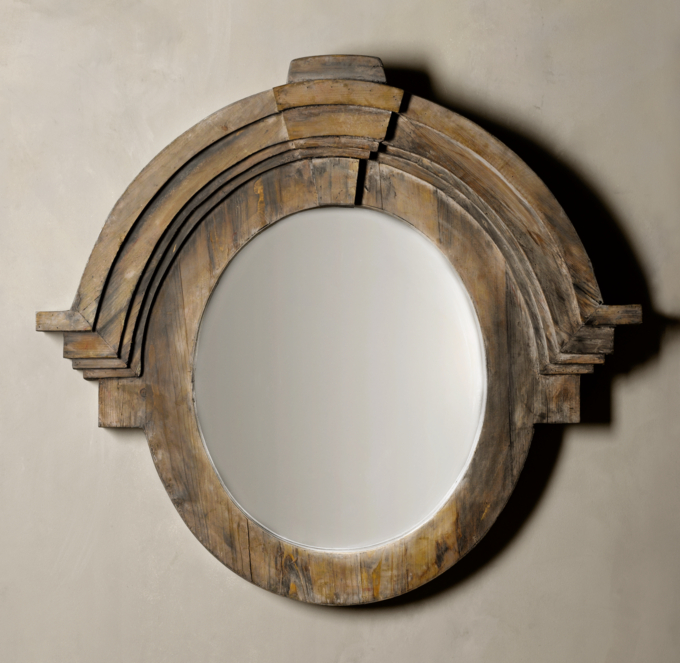 Mansard Mirror
, from Restoration Hardware.
Something old is new again, hand-carved from salvaged wood.